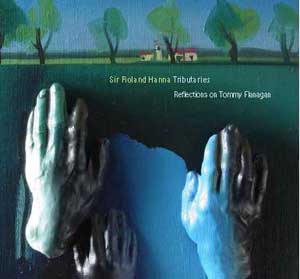 Four Stars, "Beautiful"
-- DownBeat
Among the most inspired recordings of his career.
-- Detroit Free Press
Two of the greatest jazz pianists of the last half century, Tommy Flanagan (1930-2001) and Sir Roland Hanna (1932-2002) first met as teenagers in Detroit in the 1940s and they remained friends and colleagues for 60 years (Roland's future wife, Ramona, was a high school classmate of Tommy). Their careers had many parallels, and brought them world-wide recognition and affection.
As teenagers, Tommy, a couple of years older, introduced Roland to the intricacies of modern jazz while Roland shared with Tommy his background in classical music and piano technique. Part of the generation of jazz greats coming out of Detroit after World War II (including Hank, Thad and Elvin Jones, Milt Jackson, Donald Byrd, Kenny Burrell, Pepper Adams, Barry Harris and many others), Tommy became the pianist of choice for many of the leading jazz musicians of the 1950s, participating in dozens of landmark recording sessions, such as John Coltrane's 'Giant Steps' and Sonny Rollins's 'Saxophone Colossus,' and acting as musical director for Ella Fitzgerald.
Roland's path was more circuitous, involving army service followed by study at the Eastman School of Music and Juilliard (from which he graduated in 1958). He was initially hired out of Juilliard by Benny Goodman, and developed a reputation as a great big-band pianist through his performances with Goodman, Charles Mingus and, most memorably, the Thad Jones- Mel Lewis Jazz Orchestra. Like Tommy, he worked with many of the great musicians (Coleman Hawkins, Roy Eldridge, Zoot Sims, Milt Jackson, Thad Jones and many others) and vocalists, serving as Sarah Vaughn's musical director. They both went on to careers as group leaders and soloists that earned them innumerable awards and recognition throughout the world.
In their playing, both Tommy and Roland demonstrated many of the same characteristics - complete command of the instrument, great intelligence, an amazing ear, perfect time and the ability to truly improvise, composing extemporaneously without having to fall back on cliches and mindless repetition. They were never afraid to take chances, and never played a piece the same way twice. In the summer of 2002, just six months after Tommy's death and sadly a few months before his own, Roland recorded this tribute to his friend and colleague, and it serves as a testament to both great artists.