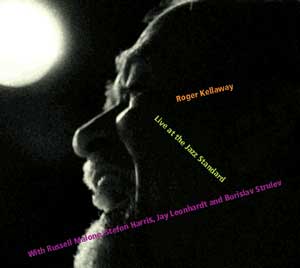 Roger Kellaway has the kind of monumental piano technique for which it is hard to find analogues. A modernized version of Dick Hyman is perhaps one. Like Hyman, Kellaway can knock you flat and run you over while sounding like he has the gas pedal halfway down. Check out his solo here on "C Jam Blues." No one else plays those wild, precise, sideways-spilling runs, beyond era or rather from all eras at once, so convoluted and yet swung so hard they make you laugh out loud. This quartet album provides a more generous exposure to Kellaway's vast piano universe than any of his recent solo and trio recordings. The reason is that it is two CDs containing almost two hours of spontaneous live music recorded at the Jazz Standard in New York. Kellaway likes to play without drums. The fact that the propulsion here comes collectively from the whole band makes it lighter and more fluid while still ferocious. Guitarist Russell Malone, vibraphonist Stefon Harris, and bassist Jay Leonhart all get lots of space to strut their strong stuff. But Kellaway is on another level. Over 13 tracks, every single one of his solos is erudite and imposing and impish and wonderfully odd. The piece with the most of all of these qualities is "Tumbling Tumbleweeds," which starts humbly, in a twangy little lope, and builds weight and density until it becomes ironically grandiose. Irony in Kellaway sounds innate. It dries all the self-pity out of soul-baring songs like "You Don't Know What Love Is." The one piece without irony is Kellaway's only original, "All My Life," poignant and sonorous in the hands of guest classical cellist Borislav Strulev
-- JazzTimes
No one can make a piano sing like Roger Kellaway, and nowhere is that more true than on his new release Live at the Jazz Standard. Beautifully performed and recorded at New York's legendary Jazz Standard, Kellaway and his usual cast of virtuosos including guitarist Russell Malone and vibist Stefon Harris bring to life the classics of Nat King Cole, Art Tatum, Oscar Peterson, and many others with ferocity. Clearly, Live at the Jazz Standard is a rare treat for jazz fans everywhere provided by one of the industry's finest talents.
-- MuzikReviews.com
Kellaway is a national treasure who is omniscient in the field of jazz.
-- AllAboutJazz
Kellaway's been putting out some incredible releases lately, and this one demands that you go see him next time he's in town
-- Jazz Weekly
This assemblage is the 'immaculate conception' of Roger Kellaway, who in my estimation, is one of the premier artists on his instrument in the jazz genre. At times I can hear a bit of Bud Powell but make no mistake Kellaway is as individualistic as they come. The band is superb, the tunes are the best, and with the pianist in chief at the helm, who could ask for anything more. 5 STARS
-- California Coast Jazz
IPO Records continues to hold itself out as the premiere platform for real players that want to make accessible, non-populist music where they really get the chance to smoke. Kellaway leads the crew on this double live set recorded over four nights where the gang is modeled on the combos of Art Tatum and Oscar Peterson and the set card is heavy on period work outs from Miles Davis, Ellington and others giving this a MJQ feel more often than not, except it swings harder than they often did. Everyone on deck here is a pro and Kellaway raises all their games. Simply supreme, sublime adult jazz for sophisticated tastes and those who wish they had some.
-- Midwest Record
Roger Kellaway Live At The Jazz Standard is one rare session of music you will not want to miss. Projecting pure electricity, pianist Kellaway and his supporting cast lay down one heck of a sound on a marvelous album of modern jazz.
-- ejazznews