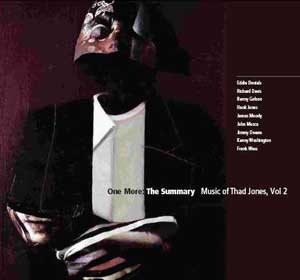 4-1/2 Stars
-- DownBeat
There are about a dozen reasons for getting this gorgeous and perfect follow up to last year's tribute to Thad Jones. For reasons of editorial economy, you only need to know how rare it is that one single recording could feature sax players from 4 (count 'em) different musical generations: bebopper James Moody, Swinger Frank Wess, Hard Bopper Benny Golson and Post Modernist Eddie Daniels. To hear the contrasts in tone and styles during each song is a sonic and historic wonder. 64 year old Daniels, except for drummer Kenny Washington, is the youngest member of this band by over 20 years, with almost nonagenarian Hank Jones playing as tastefully and gentlemanly swinging as ever. Everyone on this disc is in prime form: Daniels ... is delightfully selective on his solos, particularly on "Little Pixie". Songs like "Groove Merchant" feature all four tenors displaying their wares with inspiring clarity. This song alone is worth a semester's credits at any music academy. Wess' and Moody's flute work on the Parker inspired "Birdsong" blend with Jim Owen's trumpet to delightful satisfaction. Best of all is the closing duet with Moody's tenor and Jones' piano turning "The Summary" into possibly the greatest performance of the year. If this doesn't make your heart skip a beat, check your pulse to make sure you're alive. Buy it, grab it, love it and hold it. Over 650 years of experience are found in this nonet of musicians, and it will take you that long to find something better.
-- AllAboutJazz
This tribute to Thad Jones' music is not only equal to Volume One (One More) but eclipses it, proving a worthy candidate for jazz album of the year 2007. One of the differences is Eddie Daniels, whose inviting solo on "Little Pixie" introduces a session that's as free-spirited as it is respectful of its inspirational source. I can remember when jazz followers marveled at the patience of Jones playing second trumpet night after night in the Count Basie Band, forfeiting most of the limited solo space to Joe Newman. It's ironic that this magnificent musician no doubt was the last to know his own musical worth. Even on a 'commercial' soul session scored for Sonny Stitt, Goin' Down Slow (Prestige, 1972), the arranger-trumpeter had few equals at balancing the expectations of the listener with the needs of the musician. The scaled-down arrangements by Michael Patterson capture the big band concepts and textures of the Jones originals, with superlative support from the tight and balanced ensembles and the empathetic tandem of bassist Richard Davis and percussionist Kenny Washington, who knows when to go to the backbeats and when to back down, lest the groove upstage the composer's compelling musical narratives. The solos may surprise listeners who assume that the venerability of the musicians (and the scarcity of recent recorded work by them) attests to a decline in instrumental prowess. Trumpeter Jimmy Owens, who hasn't been heard from much since his auspicious debut with Kenny Barron or work with Mingus (At UCLA), proves that he's better than ever, whether employing a breathy, vocal quality ("Little Pixie"), a smooth flugelhorn sound ("Three in One"), or brilliant and elliptical, Jones-like melodic ideas ("Rejoice"). John Mosca, whose approach is somewhere between the brassy pyrotechnics of Frank Rosolino and the fluid precision of Carl Fontana, reminds us that the great trombonists are simply not being recorded or heard, but through no fault of their own. But most notable is an unlikely tetralogy of "tough" tenors. Once again, Eddie Daniels surprises, a virtuoso player who can afford to be extemporaneous, forego "control" and be up to the challenge. He's not simply a clarinetist who "doubles on tenor"; he knows the bigger horn well, going head-to-head with Benny Golson and Frank Wess on several exchanges, as well as following Owens on the aforementioned "Rejoice" with his own killer solo. Golson sounds stronger to me than on a recording session made eight years ago, and the redoubtable Wess remains in championship form on both tenor and flute. Fortunately, none of the three has to trade choruses with James Moody, whose solo on "Birdsong" amounts to an extended harmonic clinic, arguably the highlight among many standout solos. The final two tracks - Jones' classic "Three in One" and "The Summary" - bring this generous session to an immensely satisfying close. The latter tune, a meditative, poignant duet taken by Moody and brother Hank Jones, is a movement from Suite for Pops - a fitting reminder that a session such as this is less about closure than keeping the tradition alive.
To sample, stream or download the entire album or any individual tracks, sign into our Radio portal below.