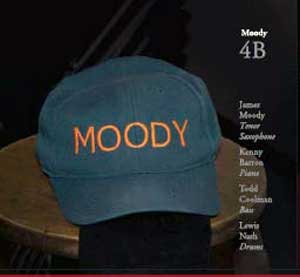 2010 Grammy Awards Winner - Best Jazz Instrumental Album, Individual or Group
Top 10 Jazz Album of the Year.
-- Downbeat Critics' Poll
In 2010 it's still a tremendous pleasure to hear the great James Moody, a wonderful saxophonist with impeccable control, confidence and instrumental mastery. … Simply put, Moody's mighty saxophone work hasn't lost its luster, and he shows that Sonny Rollins isn't the only one in his 80s with plenty left to say.
-- JazzTimes
4B, in fact, is a great place to not only hear all things Moody but Barron as well, as he glides through this straightahead program as the consummate accompanist/soloist.
-- DownBeat
4B offers just more than an hour of a master stylist at work, ably abetted by some of the finest musicians around. If that's not enough for you, maybe you're reading the wrong magazine.