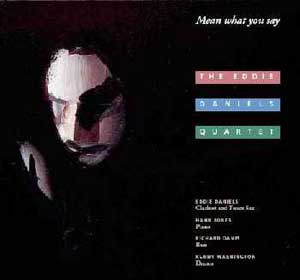 "A superb recording which deserves consideration as one of the best of the year."
-- AllAboutJazz
"In a word, Daniels dazzles. There are eight tracks on clarinet, four on tenor, and Daniels dances through each with a fluency that evidences an instant mind-spirit-instrument connection... Let's hope Daniels doesn't wait another decade to release the next one."
-- JazzTimes
"I suggest that where this CD is headed is under the lasers of countless CD players. This is damn good stuff!! This is the American Songbook with consummate class."
-- ejazznews.com
"This exceptionally attractive mainstream set from Eddie Daniels finds the veteran saxophonist/clarinetist in very good form. His clarinet playing is incisive and inventive, his tenor saxophone fluent and melodic. Backing Eddie is a rhythm section leaders must dream about ... and there is not a moment without interest or excitement or pleasure or any combination thereof. This is mainstream jazz at its very best and this CD belongs on the shelves of any discerning collector."
-- swing2bop
"He's on top of his game and won't let up. To use a basketball metaphor, Eddie Daniels has put it through the hoop from mid-court--nothing but net!"
-- AllAboutJazz.com
"As one of the greatest living clarinetists, the Grammy winning Eddie Daniels also spends a lot of time playing classical music. Here, however, he does his first full-on jazz record in a decade and dusts off his tenor saxophone to celebrate. He's joined by a stellar line-up - pianist Hank Jones, bassist Richard Davis and drummer Kenny Washington - to run through a dozen tunes... Great players playing classic tunes, this one is a no brainer."
-- Jazz Week
"Mean What You Say" is a new recording by Grammy Award winner Eddie Daniels. It is the first straight-ahead jazz recording by the great clarinetist in a decade, and features his return to the tenor saxophone, as well as the clarinet. The solid-gold rhythm section includes Hank Jones and Richard Davis, who along with Eddie were charter members of the legendary Thad Jones-Mel Lewis Jazz Orchestra.
Since coming to prominence with the Jones-Lewis band, Eddie Daniels has achieved a unique place among clarinet players, in both the jazz and classical worlds. The eminent jazz critic Leonard Feather said of Eddie, "It is a rare event in jazz where one man can all but reinvent an instrument bringing it to a new stage of evolution." With a memorable series of recordings on the famous GRP label, including the Grammy Award winning "Memos from Paradise," Eddie revolutionized clarinet playing, combining jazz and classical influences in a unique and highly personal statement. No less an authority than Leonard Bernstein said that "Eddie Daniels combines elegance and virtuosity in a way that makes me remember Arthur Rubenstein."
"Mean What You Say" marks a return to Eddie's roots in modern jazz, and is his first straight-ahead jazz recording in many years. As his collaborators, he chose two of the living giants of jazz, Hank Jones and Richard Davis, with whom he first played almost 40 years ago, along with the great drummer, Kenny Washington. Hank, the dean of modern jazz pianists, was one of Eddie's first employers in the late 1960s, in frequent gigs led by Hank around New York. The pleasure of their reunion is reflected in the spirit of the music on the album, and the rapport between these two legends on their