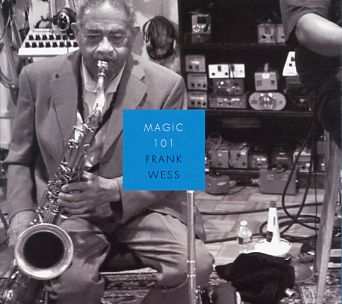 Who knew there would ever be an album that could stand in for Ben Webster's Soulville? But here it is: svelte, warm, spirited, witty, passionate, swinging, easygoing, tender, elegant—the epitome of the tenor saxophone as the spirit of romance.
-- DownBeat ("Hot Box Review" Five Stars)
Wess has refined his artistry to the point that no note is superficial, every inflection has meaning, and every improvisation is lucid and fresh sounding, the culmination of his time spent with the Billy Eckstine and Count Basie big bands, the New York Jazz Quartet, Dameronia, the "Two Franks" Quintet co-led with Frank Foster, and countless other musical experiences. Wess was just 89 at the time of this 2011 session, and it can be argued that he has never played better, nor had more complementary support than that provided here by pianist Kenny Barron, bassist Kenny Davis, and drummer Winard Harper. … Every note again has its proper place, purpose, and effect, right down to the last cavernous few that conclude both the track and this priceless recording.
-- Jazz Times
Magic 101 from Frank Wess on another favourite label of mine ipo, is magnificent straight-ahead tenor saxophone playing filled with taste. No 1000 miles an hour running the changes, but rather heartfelt ideas played with feeling.
-- Artlink
Here's a guy that over 3 score years has been involved in some of the most fantastic music in jazz. As this disc proves, the truly great ones get better and better like a fine wine…. Maybe Album of the Year!
-- Jazz Weekly
Here is a CD of great jazz, masterfully recorded and brilliantly interpreted. Wess establishes his style and dexterity immediately on "Say It Isn't So." He grabs the listener by the ear and drags you into a wonderful world of innovation, spirit and improvisation. No wonder he's known in jazz circles as magic. .. Wess casts his spell from the first musical phrase blown from his tenor saxophone. His passion, sincerity, determination and creativity is all here, obvious as a magician's hat. But there are no rabbit punches pulled. Everything is pure, honest and unforgettably lyrical.
-- LA Jazz
In 2007, saxophonist and flutist Frank Wess was named NEA Jazz Master, and Magic 101 amply demonstrates why. This mellow session covers six standards and a Wess original, with a candid and unadorned style that is nevertheless powerful in its apparent simplicity. Like a wise raconteur, the 89 year-old (at the time of the recording) icon embellishes the melodies with wit and erudition. … At the cusp of his tenth decade of life, Wess has not only lost none of his musical acumen, he has imbued it with a mature savior faire peppered with joyful abandon.
-- AllAboutJazz
Aptly titled Magic 101 (IPO C1023), it is indeed magic. … It's music that speaks directly to your soul. Standards, jazz classics and a Frank Wess penned "Pretty Lady" grace your ears for nearly an hour of the beautiful, classic art of improvisation. Frank comes through with incredible presence. The sound is still there, in that uncanny combination of swing and bop tenorism that was always his. It's burnished and completely essentialist playing, with nothing extraneous, nothing extra, nothing unneeded. And there is total command--not a hint of faltering that you can get with players of venerable years. This is mostly the art of the ballad. And Frank is the master.
-- Gapplegate Music Review
His improvisational skills are riveting, and his talent his simply enormous. His latest CD, "Magic 101", originally recorded in 2011 at the age of 89, is being released June 11th, and let me tell you, some things only get better with time. Frank Wess' playing is one of them. The CD is smooth, sultry, bold, and absolutely an attention grabber. It's sheer perfection, and noteworthy for both accomplished jazz artists and jazz enthusiasts. … Distinguished by a remarkable and accomplished rhythm section, prominently featuring another highly respected elder, Kenny Barron on piano, and Kenny Davis and Winard Harper on bass and drums, "Magic 101" is simply magical. … Expect the best from this one, because that's all there is being offered here.
-- The Entertainment Bank
Magic 101 is a captivating and incredibly organic presentation from 91 year old legend Frank Wess. Toss in one of the finest rhythm sections that includes the great Kenny Barron on piano, Kenny Davis on bass and Winard Harper on drums and the end result is a showcase for an instrumental artist that is original in presentation while sticking to that old school wheelhouse of the classic ballad interpretation of some timeless classic reinvented by a master story teller in Wess. This ensemble functions as a well oiled machine and puts the paddles to an incredibly important area and subsequent development of the jazz standard with amazing results…. Perfection can be a loaded word when describing any release given that taste is subjective but when carefully applied to the subject matter then there are those recordings where a legitimate case can be made.
-- Critical Jazz