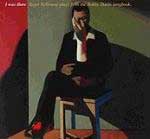 But the value of I Was There, beyond the reminder that Kellaway worked with Bobby Darin, is the reminder that Roger Kellaway, at the age of 65, remains one of the busiest, but one of the most under-recognized jazz pianists of his generation. His technical complexity and mastery of his instrument is obvious throughout I Was There as he reinterprets Darin's music according to his own personality this time, instead to conform to Darin's. And IPO Recordings during its relatively short existence has proven once again that it values exceptional quality as it records underpromoted musician's musicians like Tom McIntosh and Sir Roland Hanna. I Was There fits into that description perfectly, and it's gratifying to hear Kellaway playing recorded jazz again. It took the release of another movie to bring the prolific and infinitely imaginative Kellaway to the public's attention again.
-- JazzReview.com
Every track on this CD is a gem, but some are stunning. His complete mastery of the piano shines through everything he plays and makes his work absolutely timeless. He draws from all of his amazing breadth of experience to produce an album of superb quality, which is easy to listen to and at the same time very stimulating, ... Roger's performance here is perfection, I suspect that in the future this CD is destined to become one of the definitive, solo piano albums.
-- Music Web
Kellaway's groove is impeccable. His ideas are both intelligent and ebullient. We easily enter into a (his) musical dialogue, caught up within his wonderful sense of musical dynamics...neither player nor listener is overshadowed.
-- ejazznews
invigorating, beautifully engineered release.
-- BBC Music Magazine (a Five Star featured review)