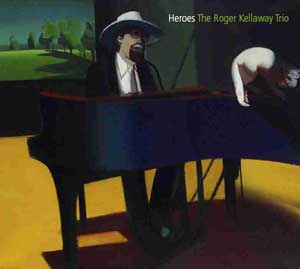 The result on Heroes is some irresistible music that - like Peterson's, Cole's and Tatum's - entertains and delights listeners, enveloping them in the music.
-- JazzImpov Magazine
Roger Kellaway could not be called a best kept secret. He's been active for over 40 years, performing with the likes of Dizzy Gillespie, Zoot Sims, Sonny Rollins, Ben Webster, Barbra Streisand, and yes, Bobby Darin, the subject of the first two discs reviewed here. Kellaway's sprawling experience is reflected by his black-hole talent. His command of the entire history of piano styles is staggering and it's exhilarating to hear it all at once--and on these three recordings, the listener is treated to this exact experience... While Kellaway's Bobby Darin offerings are heads and shoulders above the vast majority of jazz piano discs, Heroes is his current piece de resistance. Roger Kellaway is a talent reaching zenith, hopefully a very long one.
-- AllAboutJazz
The repertoire is familiar ("Cotton Tail," "Night Train," "Moten Swing," etc.) but the interaction between the three musicians is so joyfully energetic that it's like you're hearing the tunes for the first time. Note, in particular, Kellaway's brilliant arrangement of Thelonious Monk's "52nd Street Theme." For all jazz collections.
-- CD HotList
Kellaway is a rare pianist with the technical command and historical knowledge to recreate a portion of Peterson's "power, clarity, musicality, and will to swing," all while sounding like himself.
-- JazzTimes