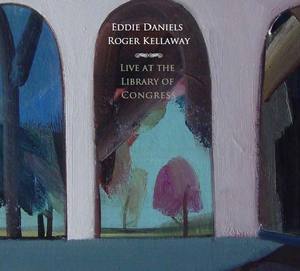 I think the expression is "cut from the same cloth." Had Daniels and Kellaway never played together, it would be one of those "it's only a matter of time" things. The two are among the most adventurous musicians I've ever encountered, and, as they have on several previous recordings, they're a riveting duo again here. Both musicians are absolutely fearless. They'll rain cascades of notes upon your head at the blur of a feather. And they do it with such heavy-duty musicianship that it can only make you shake your head in wonder. Each contributes an original or two in this startling performance, and the rest of it ends up as varied as "Strike Up The Band," on one hand, and "Rhythm-A-Ning" on the other. You'll also hear familiar fare such as Leonard Bernstein's West Side Story gem, "Somewhere"; a go-for-broke version of the aged-in-marble standard, "Just Friends"; and a medley of three tunes starting with the prettiest patriotic song of them all, "America The Beautiful." This incredible journey comes to a close with a Kellaway creation called "50 State Rambler." It's textbook rapid-fire communication between two guys who are not supposed to be able to do this stuff. But take a deep breath and enjoy it. Because they do!
-- jsojazzscene.org
A great jazz duo can provide a multitude of expressions including surprise, humor, tenderness and exuberance, and the mood can change at the slightest musical cue. "Live at the Library of Congress" is the second duo album by clarinetist Eddie Daniels and pianist Roger Kellaway, and it is a delight from beginning to end. Daniels and Kellaway listen and respond to each with such acuity that they finish each other's improvised phrases, and complement each other's moods. Both exhibit flawless technique, with Daniels nimbly improvising all over his instrument, and Kellaway displaying an encyclopedic knowledge of piano styles. The tracklist includes three originals by the pianist: "Capriccio Twilight" which reveals itself as a blues about two and a half minutes into the performance, but allows each player the freedom to play outside the form; the folk-like "A Place that You Want to Call Home", which elicits glorious long lines from the clarinetist; and "50 State Rambler" which evokes the sound of a speeding freight train. To call the rest of the album standards would shortchange the originality of the selections. Alongside the usual jazz repertoire of "Just Friends", "Strike up the Band" and "Rhythm-A-Ning" are beautiful renditions of "Somewhere", "Pretty Women" and "America The Beautiful". This CD is loaded with wondrous surprises and should be a part of any jazz lover's library.
-- Jazz History Online
Eddie Daniels began in the '60s as a tenor saxophonist with the Thad Jones/Mel Lewis Orchestra. He went on to win numerous awards, particularly for his advancements in the art of the clarinet. He recorded groundbreaking works that bridged the gap between jazz and classical music. Roger Kellaway has played with everyone from Elvis Presley to Dizzy Gillespie. He was Bobby Darin's musical director and is perhaps best known as the composer of "Remembering You," the closing theme for the '70s TV classic "All in the Family." These are two artists that have a vast resume of musical experience that speaks more about the totality of American popular music, beyond the jazz realm. So when they were asked to perform at the Library of Congress in Wahington, DC in February 2011, it just seemed like a natural.
These consummate artists embody modern culture and the concert performed here is a true meeting of the minds. "Strike up the Band" is the Gershwin classic that seems usually reserved for big bands and the like. Daniels and Kellaway hint at that mood and establish the rousing melody. But, in this intimate and more minimal setting, they have more of a relaxed conversation, volleying back and forth where one player finishes the other's phrase or improvisation. This is more intricate, with some stride piano that drifts into open-ended sections. Kellaway's composition "Capriccio Twilight" finds Daniels reaching deep into his personal reserve for bebop meets classically-inspired flights of fancy. Kellaway explores the full range of the keyboard here, hinting at Monk and, even, Cecil Taylor. The Bernstein/Sondheim gem "Somewhere" is a lovely melody taken here to another tier. The duo's treatment of this Broadway classic is respectful and faithful, yet delves into the piece on a deeper level. It becomes like a multi-layered series of variations on a theme. Hence, you are transported from the standard's original intent and taken on a journey. Thelonius Monk's "Rhythm-a-ning" appears somewhat scripted in the manner in which the piece is arranged. But true to Monk, there is enough quirkiness and devil-may-care to keep it interesting. The familiar roller coaster-like filigree of the tune's head is the perfect vehicle for Daniels' careening intervallic leaps and Kellaway's boogie woogie excursions. Considering the setting in which they were performing in, "America the Beautiful" seems like an appropriate addition to the program. But in the hands of this duo the familiar standard possessed a special kind of power. Daniels takes the piece into free form uncharted waters where few would dare to go. But it never gets so "out" that the reverence and tradition of the music cannot be acknowledged. These two make a joyful noise and express a full palette of emotions. That is followed by a short medley featuring two tunes with similar titles—"Etude of a Woman" by Daniels and "Pretty Women" by Stephen Sondheim. Daniels introduces themes and sets the improvisational mood. Kellaway picks up the baton, as it were, and expands on the rather open nature of the compositions with richer and more expansive ideas. "Just Friends" is utterly astounding for its blend of simplicity and artful endeavor. The sonority and timbre of the clarinet here is so clear and ebullient and Kellaway's mix of stride, modern bop and pseudo avant garde phrasing sets this one apart. "A Place That You Want to Call Home" is another Kellaway number that sweeps the listener up in its pastoral and wistful aura. This is a great one for putting your feet up in your favorite chair and taking pause to reflect and be mindful. They wrap up the program with another Kellaway classic called "50 State Rambler." This has a "Flight of the Bumblebee" urgency to it. There's also the balance of atonality with more consonant harmonies. The mood shifts from fleet-fingered and dazzling to somber and straight-ahead swing.
This disc is a time capsule of two undeniable masters at the top of their craft. A must for jazz aficionados everywhere.
-- Jazz Inside Magazine
Some of you may be familiar with the name Eddie Daniels and perhaps even fewer familiar with Roger Kellaway. No, these are not two artists to emerge from the Jazz witness protection program. Clarinetist Daniels and pianist Kellaway are both virtuoso musicians each deserving of far wider recognition for the artistry and influence on those they have come in contact with throughout their distinguished careers.
View YouTube Playlist