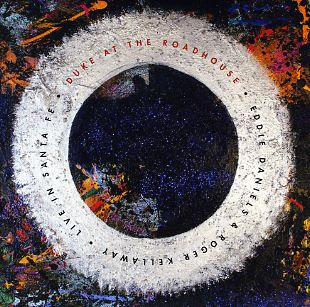 An astonishing, technically challenging demonstration of the two masters' precision and daring.
-- JazzTimes
For a powerful adrenaline rush, it's hard to beat a full house (sixteen or seventeen single-minded musicians wailing in unison and swinging like there's no tomorrow), although there's a lot to be said for a pair of aces, too. Daniels and Kellaway have dealt themselves a winning hand, one that is well worth betting on.
-- All About Jazz
Pianist Roger Kellaway and clarinetist Eddie Daniels are veterans who couldn't be more accomplished, and yet they can sound like exuberant kids on their new collection of (mostly) Ellington tunes, Roger Kellaway and Eddie Daniels Live in Santa Fe. … The whole collection is masterful.
-- Fanfare Magazine
These superb musicians make beautiful music together…. Each musician stuns you with his abilities, soloing and harmonizing to the great classic melodies of The Duke. A few of their own compositions add to and enrich the flavor of this CD, which is classic excellence. Daniels, considered by many to be the best clarinet jazz player in the world, leaves no room for doubt as to why he has that reputation with every note that he plays. Kellaway keeps pace on piano, and is simply superb. … What has been produced here is a fine jazz CD of the highest caliber. It's a must have for the true Jazz lover with amazing jazz solos on all three instruments. I highly recommend this CD!!
-- The Entertainment Bank
Two musicians applying lifetimes of ideas and accomplishments to a selection of Ellington's songs, Eddie Daniels and Roger Kellaway individualize the music, command the instruments, generate engaging ideas, and affect the audience in the service of a worthy fund-raising project and of the delights afforded by the highest levels of jazz performance.
-- eJazz News
Clarinet kingpin Eddie Daniels and piano virtuoso Roger Kellaway have been associates for quite some time, but they officially became a musical item when they recorded A Duet Of One (IPO, 2009). They followed up on that live duo date with a second one—Live At The Library Of Congress (IPO, 2012)—and now, they return with yet another live duo (-cum-trio) item that focuses on Ellingtonia in all its glory. … Kellaway and Daniels each contribute one Ellington-influenced original apiece, but it's the Ellington songs themselves that shine brightest during this jewel-of-an-album.
-- All About Jazz
This is the third magnificent album in a row from these two master musicians.
-- Music Web International
This material was recorded at a concert in Santa Fe, New Mexico, and captures the way that great jazz musicians can instantly create music that sounds like it had to have been worked out and rehearsed in advance. Daniels and Kellaway have created a precious gem of a recording, one that is immediately timeless.
-- Jersey Jazz
If you celebrate brilliant musicianship and enjoy sailing on the ship of Ellington, this is a must hear experience.
-- Jazz Society of Oregon
One of the most recent albums of the Duke's repertoire is by the wonderful pianist Roger Kellaway in duet with the clarinet master Eddie Daniels and it swings with gay abandon from start to finish.
There are no secret ingredients here. Mr. Kellaway is one of the principal characters in this virtual operetta that is Live in Santa Fe. The pianist is, regrettably, not as well-known as a featured artist as he should be and his significant reputation rests upon a few recordings and the eager following of cognoscenti. But he deserves to be much better-known. His mastery of expression is something to be breathtakingly admired. Audiences have often become numb with delight and have been left gasping at the cut and thrust of his attack as his fingers flail across the ivories. He dazzles equally with majestically executed arpeggios and fluttering runs as he does with sublime and half hidden harmonies. His phrases consist of gorgeously coloured notes played in fluttering triads and triplets as well as in wider spaced multi-coloured notes that carve the air in wider arcs. Melodies might pop up in spirited inversions or simply linear innovations awash with polytonal colours and textures. Best of all, he has such a mastery of Duke Ellington's repertoire that he has made it his own in a singular manner and created breathtaking new ideas which are barely hidden in the versions of Mr. Ellington's songs that he plays. But he is never alone… The great Eddie Daniels is never very far behind; in fact he is not behind at all, but rather the pianist and the reeds and woodwinds player are entwined like the proverbial double-helix and with that musical DNA are able to create this wondrous music that would please the stellar cast of musicians who once made up the Duke Ellington Orchestra.
-- Jazz Dagama
Two old friends and master clinicians of their instruments have paired talents to take us on a journey that celebrates Duke Ellington. They are completely entertaining and your ears are riveted to the disc. I can just imagine how the Santa Fe audience must have felt, sitting in stunned silence to witness such a profound example of jazz mastery and instrumental innovation.
-- LA Jazz
Jazz clarinetist Eddie Daniels' latest collaboration with pianist Roger Kellaway is a fabulous tribute to late, great pianist/composer/bandleader Duke Ellington... An excellent reimagining of Ellington for a 21st-century audience.
-- News Review
-- News Review