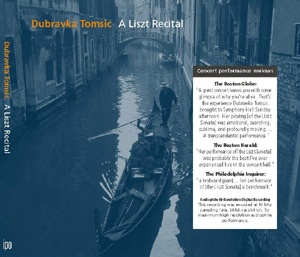 Winner of the 2003 Grand Prix du Disc of the Franz Liszt Society
"A compelling, hugely impressive performance."
-- Gramophone
"A great concert leaves you with some glimpse of why you're alive. That's the experience Dubravka Tomsic brought to Symphony Hall Sunday afternoon. Her playing was emotional, searching, sublime, and profoundly moving. ... A transcendental performance."
-- The Boston Globe
"Without question, one of the great living pianists, perhaps the preeminent successor to Artur Rubinstein, with whom she studied privately and whose hallmarks -a commanding 'singing' line, a directness of utterance and a kind of inborn naturalness - she shares."
-- The New York Observer
"a masterful interpretation of Liszt."
-- The San Francisco Chronicle
"Her performance of [the Liszt Sonata] was probably the best I've ever experienced live in the concert hall."
-- The Boston Herald
"a keyboard giant, ... her performance of [the Liszt Sonata] a benchmark."
-- The Philadelphia Inquirer
"In her thrilling recital, she extracted every ounce of sonority and eloquence from her instrument.
-- Seattle Post-Intelligencer