Richard Davis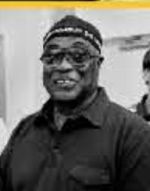 Over a career that started in the 1950s, NEA Jazz Master Richard Davis has performed in symphony orchestras, in jazz settings covering the full range from traditional to avant garde and in occasional popular music groups.
Early in his career, he toured with Sarah Vaughan and played with instrumentalists like Amad Jamal, Don Shirley and Kenny Burrell. During the 1960s, he worked with major modernists such as John Coltrane, Eric Dolphy, Jaki Byard and Roland Kirk, and was a charter member of the Thad Jones-Mel Lewis Jazz Orchestra, with whom he played from 1966 through 1972.
Outside the field of jazz, Richard has performed and recorded with artists ranging from classical conductors Igor Stravinsky, Leopold Stokowski, Pierre Boulez, Gunther Schuller, and Leonard Bernstein, to popular musicians such a Van Morrisson, Barbra Streisand, The Manhattan Transfer, John Lennon, and Bruce Springsteen.
During the past few decades, Richard has focused much of his time and effort on teaching. Since 1977 he has been Professor of Music at the University of Wisconsin in Madison.