Jimmy Owens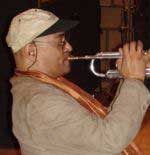 NEA Jazz Master Jimmy Owens has long been one of the most active musicians in New York. He attended the High School of Music and Art and then studied composition with Henry Bryant and the trumpet with Donald Byrd. During the 1960s he worked with many leading musicians, including Lionel Hampton, Charles Mingus and Herbie Mann. He also spent periods with Ellington, Gerry Mulligan, Max Roach and Count Basie. He was one of the original members of the Thad Jones-Mel Lewis orchestra. Jimmy has toured with the Dizzy Gillespie reunion band and has done many European tours with different groups.
Jimmy's initial influences were Miles Davis, Gillespie and Art Farmer, and he was already a highly polished performer by the mid-1960s, combining something of the sonority of Davis with a superb technique. At the 1970 Newport jazz festival celebration of Louis Armstrong's birthday, Jimmy was the youngest of a select group of trumpet players chosen to play in tribute to Satchmo; the others included Gillespie, Thad Jones, Howard McGee, Bobby Hackett and Joe Newman.
Jimmy was a featured soloist on one of the classic jazz-rock albums, Billy Cobham's Spectrum. He has played on more than eighty albums with other leaders, including Mann, James Moody, Gillespie, Archie Shepp and Booker Ervin. He is also active as a lecturer, lobbyist and educator.