Hank Jones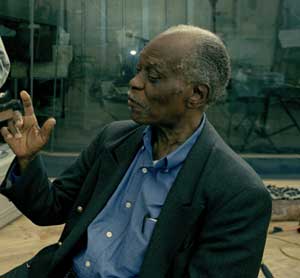 NEA Jazz Master Hank Jones was the last surviving member of the most talented family in jazz history, which included his brothers, the great trumpet player, band leader, composer and arranger Thad Jones, and the legendary drummer Elvin Jones, the force behind John Coltrane's classic quartet. Yet Hank always claimed that the finest musician in the family was his sister, a very talented pianist who died in her teens.
Hank is also the dean of the great "Detroit school" of jazz pianists that included Tommy Flanagan, Barry Harris and Roland Hanna. He moved to New York from Detroit in 1944 and worked with many of the great players of the swing and bebop eras, including Coleman Hawkins and Charlie Parker. As a freelancing accompanist, he backed Ella Fitzgerald from 1947-53 and subsequently toured with Jazz At The Philharmonic along with Hawkins, Parker, Roy Elridge and many other jazz greats.
Hank was a consummate professional and a true gentleman. Whenever a musical issue came up in a recording session, the other players always looked to Hank for a solution, and he invariably provided the right one. Hank played and recorded with virtually every leading jazz musician of his time.